Professional Northern Colorado Holiday Lighting Installer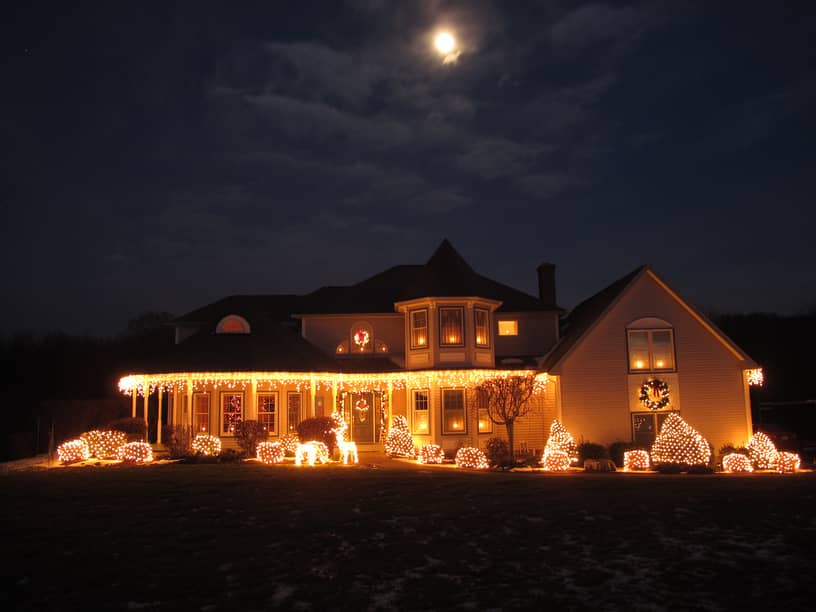 If you're on the hunt for a reputable holiday lighting installer that services Northern Colorado, then you're in luck, because Northern Colorado Window Cleaning is taking on new clients!
Beyond our quality pressure washing services, we are committed to being the premier holiday lighting installer in the area. Our clients love coming to us because they know that we're dedicated to ensuring their satisfaction, we're committed to producing unparalleled results, and we put safety and quality above all else. When you call our holiday lighting installer team, you can rest assured knowing you're in good hands.
You might think that holiday lighting installation is a very simple, DIY project. The fact of the matter is that it's not only difficult but also dangerous if you don't know what you're doing. You don't want to risk hurting yourself or damaging your home (especially during the already-hectic holiday season), which is why we encourage you to contact a holiday lighting installer to take care of you.
We have the experience, knowledge, and equipment necessary to make sure your home or commercial property looks amazing just in time for the holiday season, and you won't even have to lift a finger!
Read on to get a better understanding of our various holiday lighting specialties, and learn how you can take advantage of our amazing services today. If you have any further questions, we implore you to reach out to us sooner rather than later.
We Only Used Company Provided Holiday Lights To Simplify Your Holiday Decor
Instead of worrying about storage space for your holiday decor items or going bulb by bulb to find the burnt-out one that is stopping your entire strand from lighting up - we simplify your holiday decor process.
We only use the best quality lights, provided for your use when you use our holiday lighting installation services. This ensures that you get the best looking light display possible with our better quality product, design, and installation services.
Best of all - there is no extra charge! The use of our required company-provided lights is included in your holiday lighting installation and post-holiday takedown charges.
So don't worry about finding extra attic space or upgrading your outdated holiday decor, Northern Colorado Window Cleaning has you covered!
Residential Holiday Lighting
When the holidays come around, one of the biggest tasks is setting up the holiday lighting around your home. However, instead of going through all the trouble of trying to handle this daunting chore yourself, we recommend you hire a professional holiday lighting installer, such as Northern Colorado Window Cleaning, to take care of it instead. We recommend using our gutter cleaning and roof cleaning services first so that we have the freshest canvas possible for your home's holiday lighting.
Commercial Holiday Lighting
While we take great pride in helping out our residential clients with their Northern Colorado holiday lighting needs, we also want our commercial property owners to know they can rely on our assistance as well. We offer top-quality commercial holiday lighting installation for property owners all across the greater Northern Colorado region and beyond.
Ready to find out more about how we can help you out with your holiday lighting needs? Then call us today and speak with a professional holiday lighting installer. We look forward to helping you out and addressing all your questions, comments, and concerns.
We can't wait to hear from you!
OUR LATEST ARTICLES
How Clean Windows Can Benefit Your Health

For the most part, we clean our windows because they get dirty, and clean windows are prettier than dirty ones! But you'll be surprised to learn that there are more benefits to having clean windows t […]

Why Get Your Windows Cleaned

We all like to be DIY kings and queens but sometimes there are certain chores around the house that should be left to the professionals. Window Cleaning is one of those chores that require certain to […]