Common Issues Facing Your Roof (and How Soft Washing can Help)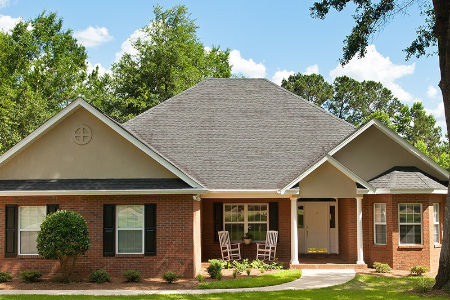 Your roof is one of the most important installations of your home because it's the main thing sheltering you and your family from all manner of harsh outdoor elements. While your roof may seem sturdy, it is usually under constant stress from several factors. The best way to ensure that your roof isn't getting too bogged down is to schedule a professional pressure washing tech for roof cleaning services as needed. Roof cleaning can offset the degenerative effect these elements have on your roof so that it can stay attractive and intact year after year. Read below for a list of common afflictions that roofs suffer from and how soft washing can remedy them.
Stains and Discoloration
Everything from algae to mud to animal droppings can have your roof covered in stains and streaks that could become permanent without treatment. If you're tired of seeing your roof sport a mess of surface stains that ruin its look, then roof cleaning is what you need. Professional soft washing uses mild detergents designed to reach even the most embedded stains and remove or drastically reduce their appearance. Don't let a stained roof bring down the curb appeal of your home; include roof cleaning in your maintenance routine and say so long to unsightly discoloration once and for all!
Organic Growths
Algae, mold, and mildew can all develop on your roof in spots that don't receive as much direct sunlight. These growths not only cause unsightly staining and discoloration, but they can also lead to rotting and decay over time. With soft washing for your roof, you can kill off any unwanted organic growth that may cause structural problems for your roof. It's the best way to sanitize any potentially harmful growths effectively without harsh or damaging applications.
Harsh Weather Conditions
Northern Colorado is no stranger to snow, ice, wind, and other harsh weather conditions that can put your roof through the wringer! They can also leave behind a smattering of dirt and other debris that make your roof look an unsightly mess. With soft washing, you can minimize weather damage and remove any built-up debris burdening your roof so that it doesn't succumb to an early demise!
Clogged Gutters
Clogged gutters pose a threat for several reasons, but they can have disastrous effects on your roof, especially. Clogged gutters can cause water to pool along your roof and can eventually result in decay and rotting of its underlying material. This is an issue that can lead to considerable repairs and potentially even a roof replacement. Luckily, you can avoid this nightmarish scenario with professional exterior cleaning. Gutter cleaning helps prevent damage to several exteriors but can make the most significant difference for your roof.
Your roof works hard to keep you and your family safe every day and sees its share of wear and tear from the elements. Give it the care it needs to keep sheltering you with quality pressure washing services. If you're in the area, then be sure to give the team at Northern Colorado Window Cleaning a call and see what we can do to protect your roof!
OUR LATEST ARTICLES
How Clean Windows Can Benefit Your Health

For the most part, we clean our windows because they get dirty, and clean windows are prettier than dirty ones! But you'll be surprised to learn that there are more benefits to having clean windows t […]

Why Get Your Windows Cleaned

We all like to be DIY kings and queens but sometimes there are certain chores around the house that should be left to the professionals. Window Cleaning is one of those chores that require certain to […]